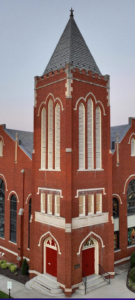 FUMC's Sound and Light Campaign
A Message from Mike Montgomery,
a member of the FUMC Board of Trustees:
 "Blessed are the people who know the joyful sound! They walk, O Lord, in the light of your countenance." – Psalm 89:15
Today, I am inviting everyone in our Farmville United Methodist Church family to join Reverend Susie and me in an opportunity to provide a needed restoration and a great improvement for our church.
Our community has expected and enjoyed beautiful carillon performances from our bell tower since the 1960s.  However, after many years of service, our carillon system has literally worn out and we have been missing this important music ministry for many months.  Restoring this wonderful outreach will bring the sound of beautiful bell-song to Farmville.
Our chancel area that includes the pulpit, lectern and the area between them is not well illuminated, especially on gray days and evenings and additional lighting is needed for quality viewing by both our sanctuary congregation and our remote video viewers.  Our services and the many other activities that take place in our beautiful space will greatly benefit from professional quality lighting improvements.
I am honored to be asked to announce the Farmville United Methodist Church's "Sound and Light" Campaign.  We are seeking donations with a goal of $20,000 to fund these enhancements.
The new carillon is estimated to cost $15,000 and the lighting upgrades $5,000.  The Trustees and Church Council prefer to raise these funds through the generosity of our givers rather than borrowing against our line of credit and the additional costs that would entail.  Further information and specifics will be forthcoming through our Update and ongoing Sunday announcements.
Please look into your hearts to see what you can do to assist this effort which is targeted for success at Thanksgiving 2023.  Talk to me about your questions and ideas – my email is mbmonty@outlook.com – and look forward to details about this campaign. Any contributions by check may be made out to FUMC, with "Sound and Light" in the memo line. Thank you!